JANUARY 18 - MARCH 23, 2014
GROUP EXHIBITION
OUTSIDE THE LINES - PAINTING: A LOVE STORY
Contemporary Arts Museum Houston
Texas

Outside the Lines, with curatorial contributions by Bill Arning, Valerie Cassel Oliver, and Dean Daderko, kicks off CAMH's 65th anniversary season with a nod to the Museum's past and an eye to what's next. Inspired by the popular CAMH exhibition Abstract Painting, Once Removed (organized by Dana Friis-Hansen, 1998), and the curatorial experimentation of Changing Perspectives (1995), Outside the Lines delivers an evolving series of exhibitions that consider the present and future of abstract painting.

More information soon



MARCH 6-9, 2014
ARMORY SHOW SOLO BOOTH
The Armory Show
New York

Pier 94 - Armory Presents:
Invisible-Exports NY, Scott Treleaven



DECEMBER 12, 2013
SYMPOSIUM
KEITH HARING: LANGUAGES
NYU Fales Library and Special Collections
New York

Curated by Andrew Blackley, the exhibition focuses on early texts and rarely-screened video artworks made by Keith Haring and runs through February 28, 2014
New York University's Fales Library and Special Collections presents an afternoon symposium, "Keith Haring: Languages" on Thursday, December 12, 2013 from 3:00pm to 6:30pm, Fales Library, third floor, Elmer Holmes Bobst Library, 70 Washington Square South, (at LaGuardia Place). [Subways A, C, E, B, D, F, M to West 4th Street; 6 line to Astor Place; R train to 8th Street]. At the conclusion of the symposium, the exhibition, "Keith Haring: Languages," curated by Andrew Blackley, which focuses on archival objects and rarely-screened video artworks made by Keith Haring (1979-81) will open to the public. Please refer to the Fales website for a more detailed schedule of events.
Beginning at 3pm, the symposium, introduced by Fales Director Marvin J. Taylor and curator Andrew Blackley, will be composed of two panels of participants presenting papers which offer new approaches to Haring's work from variety of academic and professional disciplines.
Drawn from the materials maintained by the Keith Haring Foundation, the participants -- curators, art historians, filmmakers, critics and scholars -- were asked to look at Haring not simply as a visual artist, but as a figure engaged with, among other things, semiotics, mathematics, and language—both verbal and visual.
"We've aimed to create a platform for the production of new scholarship – at once speculative and historical - applicable to this interesting and important moment in Haring's career," said panel organizer and exhibition curator, Andrew Blackley.
"The Keith Haring Foundation is committed to utilizing its archive to generate new perspectives on Keith Haring's career," said Julia Gruen, Executive Director of the Keith Haring Foundation. "The opportunity to do so with NYU's Fales Collection is particularly satisfying, since the library, curator Andrew Blackley and several scholars are exploring and offering insights into some of Haring's least-known and rarely investigated earliest work.  We couldn't be happier with this initiative, and hope that it inspires others to conduct similarly deep exploration into other facets of Haring's practice and philosophy of art."
"Keith Haring was one of the most important artists to rise out of the explosion of creativity that was the downtown New York Scene of the 1970s and 80s, but his popularity came with a price: He has, to some, been largely considered a pop culture icon," said Taylor. "Haring was much more than that. Andrew Blackley has delved into Haring's work with language and opened a whole new way for scholars to approach Haring's work. The scholars at this symposium have followed Blackley's lead and will take us to new understandings of this complicated and ever-fascinating artist. We're especially honored that the Keith Haring Foundation chose the Fales Library as the site for the symposium and exhibition."
Presenters and their affiliations: Johanna Burton - New Museum of Contemporary Art, NY; Anthony Elms - Institute of Contemporary Art, University of Pennsylvania; Maria Engberg - Blekinge Institute of Technology, Sweden; Alex Fialho; Diarmuid Hester - University of Sussex, UK; Laura Hoptman - Museum of Modern Art, NY; Ryan Purcell; Amy Raffel - City University of New York; and artist Scott Treleaven.
The symposium coincides with Keith Haring: Languages, an exhibition focusing on early (1979-1981) and rarely-screened video artworks made by Keith Haring. These titles include Lick Fat Boys, Machine, Phonics, and Videotape for Two Monitors, among others. Each video features a distinct composition and structure, utilizing strict, exhaustive structures of predetermined repetition and replacement. Others appear to be "live edited" as performed from memory.
The exhibition will explore the textual content developed behind these video artworks and their transitional use in Haring's early performances and installations. The textual artworks within the exhibition hold unique positions as they individually occupy multiple categorical qualifiers - drawings, verses, plans, poems and exercises. The exhibition draws from and showcases selected materials from Haring's archive as modular; together composing a matrix of exchangeable but specific data. Rather than highlighting individual documents as representative, the exhibition is organized to allow for each of the 130+ items to interact within the syntax of matrices. Each model is allowed to exist and function both autonomously and as a key component of a set.



SEPTEMBER 5, 2013 - JANUARY 5, 2014
GROUP EXHIBITION
THE TEMPTATION OF AA BRONSON
Witte de With Center for Contemporary Art
Rotterdam

With: AA Bronson, Bradford Kessler, Carlos Motta, Chrysanne Stathacos, David Buchan, Derek Jarman, Elijah Burgher, Gareth Long, General Idea, Jeffrey Vallance, K8 Hardy, Louwrien Wijers, Mr. and Mrs. Keith Murray, Marina Abramović, Matthias Herrmann, Michael Bühler-Rose, Michael Dudeck, Mike Kelley, Nicolaus Chaffin, Nils Bech, Oisin Byrne, Reima Hirvonen, Robert Flack, Ryan Brewer, Sands Murray-Wassink, Scott Treleaven, Sébastien Lambeaux, Terence Koh, TM Davy, Tom de Pékin

"The title The Temptation of AA Bronson alludes to Gustave Flaubert's The Temptation of Saint Anthony, the many references Flaubert's tightly-knit text brings together, and its subsequent reverberations in art, literature, and theory. Flaubert began writing The Temptation of Saint Anthony in his twenties in the 1840s, and published three versions over his lifetime, the last in 1874. It was his Gesamtkunstwerk, his life's work, and remained incomplete and inchoate. Michel Foucault describes it as the first modern text, the text that activates modern literature, that sets the library on fire: we look over Saint Anthony's shoulder and witness a kind of movie within a movie enacted on the Egyptian desert and indexing the temptations which form our physical, moral, intellectual, and emotional life, sourced from the paintings and books of Flaubert's world, and founded in The Bible, "The Book" itself. Like Freud, Flaubert could not escape sexuality, he spent his life immersed in cataloguing the perversions of humanity..."
FOR COMPLETE DESCRIPTION
+ LIST OF EVENTS CLICK HERE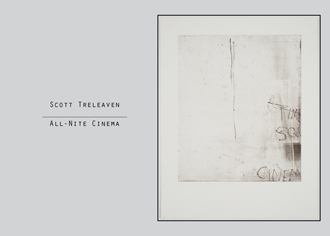 APRIL 26 – JUNE 2, 2013
SOLO EXHIBITION
All-Nite Cinema
INVISIBLE EXPORTS
New York
reception: Fri. April 26, 6-8pm

"INVISIBLE-EXPORTS is pleased to present Scott Treleaven's All-Nite Cinema, his second solo-exhibition at the gallery.
* * *
All-Nite Cinema is predicated on the idea that drawing is a medium that never "ends"— unlike film with its fixed arc, or the object fetish itself-ness of painting, drawing always points elsewhere, promising meaning outside of the work. Projected into marginal space, glanced sidelong, here Treleaven returns us to the domain of true marginal cultures — sexual outlaws, fringe religions, psychedelic explorers and ritualistic communities — in which all practice is not immediately visible, acceptable, or available; in which meaning is hidden in order to be continually uncovered.
In Tanizaki's In Praise of Shadows, the author describes how certain Japanese artifacts (both religious and commonplace) were meant to be seen in subdued, indirect lighting, not the incandescent glare that characterizes more Western interiors, and how harsh lighting destroys their inherent nuances; in Huysmans' À rebours, the character Des Esseintes discovers that a sensually colored room, painted by candlelight, became gaudy and uninviting in the light of day. And certain psychedelics, we learn from Terence McKenna, cannot function when ingested because they're broken down immediately by the body's defenses—other conditions have to be met prior to their absorption. These sorts of preconditions, Treleaven suggests, also apply to the absorption of certain kinds of information.
This exhibition features large-scale, multi-panel, mixed-media drawings, including a triptych that is the artist's largest work to date. Within the intimate scale of the gallery, the work consumes the wall, heavy black squares shot through with flares of color; a chromatically inverted cinematic projection. These new works extend the inquiry into the power of hidden meaning Treleaven initiated in his 2011 show, The Holy Man Who Drank Milk With His Penis, making a new and paradoxical step deeper into abstraction and occlusion by embracing and repurposing lessons learned from his work as a filmmaker. The quadtych 'Do You Have to Have a Body?' was created on a long strip of cardboard, beginning with a layer of gestures and colors, then rotated and worked on in all directions, so every angle is given aesthetic cohesion. The last layer is a stylized phrase, an acknowledgement of the gestural similarity to language and automatic-writing. The sheet is then cut-up and re-arranged, each individual panel worked on again to create an aesthetically complete image able to be read from any angle.
Widely recognized for his explorations of subcultures, Treleaven departs from the paradoxical code of explicitness that guides so much esoteric work, turning instead to the textured opacity of abstraction to approach his themes obliquely—not to rescue marginality into public view but to honor it by keeping it secret and strange. His commitment to the principles and models of fringe culture arises from his intuition that these structures require immersive, rather than passive, participation—that they create institutionally complete structures unto themselves and as such tend to provide great insight into the mainstream structures they appear to oppose. As the anthropologist Michael Taussig has argued, those living at the periphery of any mass culture obtain by their very marginality a critical vantage point on the culture itself. Living on the margins is not a way of hiding but of seeking, and seeing.
* * *
Scott Treleaven (1972, Canada). Recent group exhibitions include White Petals Surround Your Yellow Heart, ICA Philadelphia (2013); Dark Cube, Palais de Tokyo, Paris (2012); In Numbers, ICA London (2012); Recent Acquisitions, Weatherspoon Art Museum, NC (2012); AYE Dunkelblau, Künstlerhaus Stuttgart (2012); Night Work, Alison Jacques, London (2011); Male, Maureen Paley, London (2010). Solo exhibitions include, Kavi Gupta, Chicago; Marc Selwyn, LA; John Connelly, NY. "


FEBRUARY 6 - JULY 28, 2013
GROUP EXHIBITION
WHITE PETALS SURROUND YOUR YELLOW HEART
Institute of Contemporary Art, Philadelphia
Philadelphia

With: Hilton Als; Lynda Benglis; Bernadette Corporation; Genesis Breyer P-Orridge; Dexter Sinister with Halmos; Leif Elggren; Anne-Mie Van Kerckhoven; Karen Kilimnik; Irena Knezevic; Inez van Lamsweerde & Vinoodh Matadin; Erin Leland; Zoe Leonard; Wardell Milan; Paulina Olowska; Seth Price; Rammellzee; Nick Relph; Carissa Rodriguez; Aura Rosenberg, John Miller & Frank Lutz; Nader Sadek; Frances Stark; Catherine Sullivan; Scott Treleaven; Amy Yao

Organized by Associate Curator Anthony Elms. The exhibition catalogue will be released in December 2013 as Issue #6 of Dexter Sinister's Bulletins of the Serving Library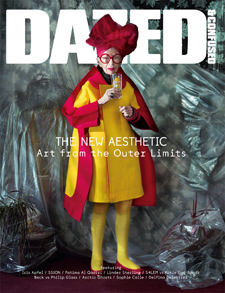 NOVEMBER 2012
IN PRINT
DAZED & CONFUSED magazine

"Francesca Gavin examines the rise of the Off-Modernists - art rebels using traditional methods to rework history." The November print issue features a two-page spread of new work by Scott Treleaven accompanying the essay.
FULL TEXT HERE



OCTOBER 2012
GROUP EXHIBITION
THE DARK CUBE
curated by Francesca Gavin
Palais de Tokyo
Paris

Juliette Bonneviot / Harry Burden / Antoine Catala / Anne de Vries / Jeremy Deller / Thomas Dozol / Oliver Laric / Clunie Reid / Ben Sansbury / Jeremy Shaw / Kasper Sonne / Scott Treleaven

Vernissage: October 6, 6pm-12am
with DJ Emma Sutton (FuseBOX)

Finissage: October 15, 8pm-12am
Virtual DJ set by Dave Maclean (Django Django)
Virtual DJ set by Dave Maclean (Django Django)

"A black or UV light emits ultraviolet radiation and little visible light. It creates an effect of fluorescence on colours and materials. 'The Dark Cube' exploits this effect by showing paintings, photographs, prints and sculptures in darkness, illuminated only by these purple glowing lamps.
The show was initially inspired by 1960s Black Light posters, initially created as representations or aids to hallucinogenic drugs. Alongside references to failed rebellion, this group exhibition touches on wider ideas around illumination and darkness, veiling and unveiling. Part of the aim is to demonstrate the relationship of contemporary ideas and aesthetics with defunct or less used forms of technology.
The Dark Cube is also a response to the cavernous nature of the Palais de Tokyo, and the flipside to the Garden of Eden's idea of a forbidden space. In northern European art The Garden of Eden was depicted as a lush forest glade, while in the south a desert oasis. In our modern times creating a landscape of electronic phosphorescence is our new utopian Eden. The exhibition switches the normal viewing experience under day or white light on its head. It becomes an X-ray of the white cube."
The Dark Cube is part of a series of exhibitions and events GALERIE UTOPIA / THE FORGOTTEN BAR PROJECT: The Garden of Eden presented by Tjorg Douglas Beer being held at the Palais de Tokyo, September to November 2012






JULY 2012
NEW WORKS
Poligrafa Obra Gráfica
Barcelona

A new series of etchings by Scott Treleaven has been specially produced by the venerable Spanish print workshop, Poligrafa.



APRIL 3 – APRIL 5, 2012
GROUP EXHIBITION
AYE dunkelblau - part two
Künstlerhaus Stuttgart
Stuttgart

Moving images hosted at Künstlerhaus Stuttgart by Ali Aldeek, Matts Andreassen, Maria Belic, Discoteca Flaming Star, Shannon Ebner, Naomi Fischer, Ane Hjort Guttu, Arja Wiik Hansen, Miriam Hansen, Benjamin Huseby, Matthew Lutz Kinoy, Lars Laumann, Linn Lindström, Solveig Lønseth, Sara Rönnbäck, Roman Schramm, Marthe Thorshaug, Scott Treleaven, Ayatgali Tuleubek, Erika Vogt, Per Westerlund
Curated by Susanne M. Winterling
In conjunction with Galerie Parrotta Contemporary Art

KÜNSTLERHAUS STUTTGART: 3. – 5.4.2012
Screenings, performances and closing party with Yusuf Etiman: Samstag, 5.5.2012, ab 21.00 Uhr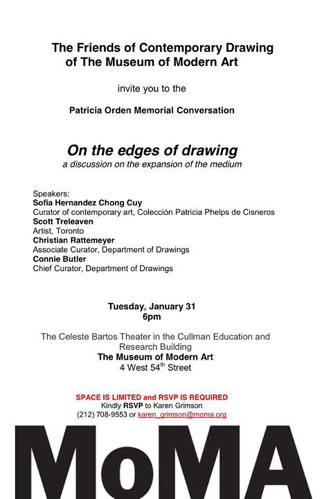 TTJANUARY 31, 2012

The Friends of Contemporary Drawing of The Museum of Modern Art
invite you to the Patricia Orden Memorial Conversation:
On the edges of drawing
a discussion on the expansion of the medium

Speakers:
Sofia Hernandez Chong Cuy
Curator of contemporary art, Colección Patricia Phelps de Cisneros

Scott Treleaven
Artist, Toronto

Christian Rattemeyer
Associate Curator, Department of Drawings

Connie Butler
Chief Curator, Department of Drawings

Tuesday, January 31 6pm
SPACE IS LIMITED and RSVP IS REQUIRED
Kindly RSVP to Karen Grimson (212) 708-9553 or karen_grimson@moma.org







JANUARY 25 – MARCH 25, 2012
GROUP EXHIBITION
In Numbers: Serial Publications by Artists Since 1955
Institute of Contemporary Arts
London

In Numbers: Serial Publications by Artists Since 1955 is a survey exhibition of the often-overlooked genre of serial publications produced by artists around the world from 1955 to the present day. From the rise of the small press in the 1960s, followed by the correspondence art movement, where artists exchanged art by post, to the DIY zine culture in the 1980s and early 1990s, professional artists have always seized on the format of magazines and postcards as a site for a new kind of art production.
In Numbers is the first survey to define a neglected artform that is neither artists' book nor ephemera, but is entirely its own unique object. The publications are by young artists operating at the peripheries of mainstream art cultures and established artists looking for an alternative to the marketplace. The publications are artworks, often idiosyncratic and produced in collaboration, and they do not feature news items, criticism, or reproductions of artworks.
The diversity of the publications is reflected in the backgrounds of the producing artists and in the wide range of techniques, nationalities and media; the survey does not attempt to be exhaustive, but simply to define the genre's contours and identify certain thematic threads.
In Numbers was previously shown at X-Initiative in New York, an experimental and temporary non-profit arts initiative that ran from March 2009 to February 2010. The exhibition is accompanied by the publication In Numbers: Serial Publications by Artists Since 1955, edited by Philip Aarons and Andrew Roth (New York: PPP Editions, 2010). The book documents the history of over 60 publications and includes essays and interviews by experts, among them Victor Brand, Clive Phillpot, Nancy Princethal and William S Wilson.
In Numbers is presented with special thanks to Philip Aarons and Shelley Fox Aarons


Update: read review in London Confidential
read review in Aesthetica Magazine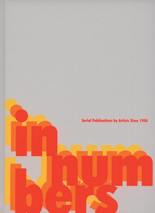 [more about the book at Printed Matter]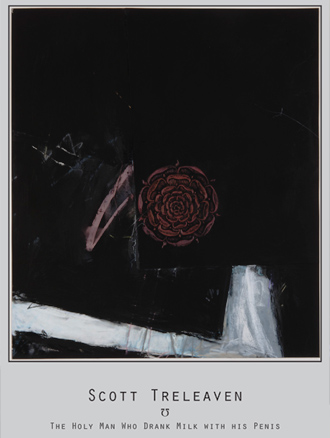 OCTOBER 28 – DECEMBER 18, 2011
SOLO EXHIBITION
The Holy Man Who Drank Milk with His Penis
INVISIBLE EXPORTS
New York
reception: Fri. October 28, 6-8pm


Update: show ranked in New York Top 10
list at Saatchi Online Magazine

"INVISIBLE-EXPORTS is pleased to present The Holy Man Who Drank Milk With His Penis, a solo exhibition of new drawings by Scott Treleaven.

Some things must be hidden to be found. In his new work, the first to embrace total abstraction, the celebrated Canadian collagist, filmmaker, and multidisciplinary virtuoso Scott Treleaven has subsumed his social- and self-critique into a suite of mesmerizing works on paper at once assertive and mysterious. In The Holy Man Who Drank Milk With His Penis, which takes its name from an obscure yogic practice for cultivating extreme self-control, Treleaven departs from the paradoxical code of explicitness that guides so much esoteric work. Rather than making public or even monumental the semi-ritualized struggles of marginalized individuals and communities, Treleaven uses the opacity of abstraction to deal with these themes obliquely, through obscuring veils—not to rescue marginality into public view but to honor it by keeping it secret and strange. Sometimes the most direct approach involves no path at all.

Treleaven first became known as the founder of an underground "queercore" movement, which was designed to dissolve in a fit of self-criticism, and for leading it to that willful dissolution through self-interrogation in the handmade zine and film 'The Salivation Army.' The two impulses remain imperative: he is an ardent advocate for the socially transformative power of marginal cultures (occultism, fringe psychology, radicalism, collage, punk aesthetics) as both participant and critic.

In his new work, Treleaven expands the expressive boundaries of his practice, exploring new emotional terrain by combining his own unique personal history and lifelong study of the artifacts of marginal culture with the exploration of more traditional materials and methods: rather than romantic collage and video, now we find more intimate, stern, even uncanny drawings; rather than representational, pedagogic depictions of ritual, now enthralling abstraction with the ritual embedded in process; in place of the pastiche spirituality of disassembled commodity culture, now an effort to transform those ideas made overly familiar through images and genre repetition into something much more peculiar, vibrational, even homeopathic. In a bold complement to previous work that embraced esotericism as a kind of teaching, Treleaven has turned to the gesture, the incontrovertible mark on paper, and allusions to automatism and automatic writing as way to explore and interrogate those things forgotten or obscured in an era deluged by mediated opinions and endlessly cumulative consensus imagery—and yielding stunning meditations on mortality, intuition, the exigencies of the present, and transcendence. In doing so, he suggests a path out of the paradox of esoteric art, that figurative treatment may betray private practice, and offers instead an approach to secret knowledge at once flirtatious and Victorian, hiding content to revive the pleasure, and the meaning, of its rediscovery.

This new work is no less preoccupied with subcultures and hidden histories, but is now marked by fascinating nonrepresentational flights of color, gesture and form. In his acclaimed 2010 'Cimitero Drawings' exhibition Treleaven brought dynamic expressionist elaborations to his collaged photographs of Milan's Monumental Cemetery. In this new series of drawings, Treleaven buries his trademark collages, blacking them out with heavy applications of paint and pastel, so only the faintest outline of the photographic image remains—the imposing, almost brutalist structures giving way to swaths of electric color and line. At once visceral, immediate, mysterious and refined, these drawings are about the stuff of marginality itself— literally, what happens on the very edges or fringes of a structure. The disruption is done symbiotically: the main structures are never totally lost or destroyed, and the defacing marks resolve into positive forms, each work a map of haphazard balance both improvised and total."

Saatchi Online Magazine review




APRIL 1 – MAY 1, 2011
GROUP EXHIBITION
Kick in the Eye
VOX POPULI GALLERY
Philadelphia

opening:
Tue. April 1, 6 to 11pm
Graham Durward, Alexandra Gorczynski, Stephen Irwin, Paul Lee, Lovett/Codagnone, Franklin Preston, Matthew
Savitsky, Marc Swanson, Scott Treleaven, Nicola Tyson
curated by Andrew Suggs




MARCH 18 - APRIL 23, 2011
SOLO EXHIBITION
SILVERMAN GALLERY
San Francisco

opening:
Fri. March 18th, 6 – 8pm

"Silverman Gallery is pleased to present an exhibition of new work by Scott Treleaven. The artist's first solo exhibition at the gallery includes a series of photographs, drawings, and sculptures.
Combined, these works advance Treleaven's ongoing meditation on the cinematic image, the aesthetics of analog media, and the obsolescence of its technologies. Drawing from his interest in metaphysical and subcultural phenomenon, as well as early theorizations of the medium, Treleaven builds a subtle dialogue beginning with his 'Portal Photographs,' created by refracting handmade dioramas through a series of lenses. Based on techniques pioneered by the early Symbolists, these almost painterly images present strangely formalized glimpses of glyphs and ciphers that gesture beyond what is merely seen. These works along with the gestural 'Cell Drawings' provide a contrast to the materiality of the two sculptures: tall, thin pillars garlanded with painstakingly enlarged and photographically printed strips of Super8 film. These works mark a new approach to collage, underscoring the physicality of the medium with hanging strips of images covered with dazzling points of light, bursts of color, and diaristic sequences from the artist's own collection of home movies. Giving form to the otherwise imperceptible flow of light, time and memory, the verticality of the plinths speak to the voluptuous experience of film, while adding an iconic edge to a medium that is delicate, intimate and fleeting."
review at Daily Serving



MARCH 11 - MARCH 17, 2010
SCREENING
Queer Cinema from the Collection:
Today and Yesterday
MUSUEM OF MODERN ART
New York

In conjunction with the Museum's current exhibition Contemporary Art from the Collection, AA Bronson, an artist, writer, curator, and member of the artists' group General Idea, curates a small selection of queer cinema and AIDS-related films and videos, drawn from and inspired by the Museum's collection.
Works by Scott Treleaven
Thursday, March 17, 6:45 p.m.
Theater 2, T2
(click link above for full program + schedule)




MARCH 2, 2011
SCREENING
The Touching of Hands:
Breyer P-Orridge | Treleaven | Hannum
ARTISTS' TELEVISION ACCESS
San Francisco

Wednesday, March 2, 2011, 8:00 pm
Tickets - $6, available at door.

"The title for the show comes from a remark that Gysin made to Genesis, and Genesis to me: that magical training can only be passed on by the touching of hands." — Scott Treleaven

An evening of solo and collaborative projects by Scott Treleaven, Genesis Breyer P-Orridge, and Terence Hannum, focusing on the shared influence of artist and mystic Brion Gysin. Gysin's close friendship with Breyer P-Orridge, in turn her friendship with Treleaven, and Treleaven's friendship with Hannum has over time given rise to a number of aesthetic and philosophical affinities, communicated from one to the other by direct contact.




JANUARY 19, 2011 - MARCH 19, 2011
GROUP EXHIBITION
Robert Mapplethorpe: Night Work
curated by Scissor Sisters
ALISON JACQUES GALLERY
London

opening:
Tue. Jan 18th, 6 – 8pm

Featuring: Matthew Barney, Tom Burr, Dan Fischer,
Neil Gall, Paul Lee, Glenn Ligon, Oswaldo Macia,
Jack Pierson, Marc Swanson, Scott Treleaven,
Banks Violette, Gillian Wearing

read the ARTFORUM review

"....This exhibition brings together seven Mapplethorpe images chosen by Scissor Sisters, along with other photographs, Polaroids and unique and rarely seen sculptures by the artist, and with the band's selection of important works by major contemporary artists who have admired or been influenced by Mapplethorpe's aesthetic and attitude. Uncompromising but life-affirming, Mapplethorpe's fascination with eroticism and mortality, beauty and liberty produced very contemporary interpretations of universal themes, themes which found articulation through the artist's exacting gaze upon the harmonic, indeed sculptural, possibilities of the objects and scenarios he encountered. His practice was distinguished by the expression of an outlook that ranged from irreverent to subversive to starkly brutal, through a rigorously disciplined language of formal and tonal composition. This unswerving commitment to the pursuit of ideal form, however unconventionally realised, exemplified a potent trend in contemporary art, where the relationships and tensions between sensuous excess and controlled restraint are made visually manifest."




NOVEMBER 7, 2010 - FEBRUARY 6, 2011
GROUP EXHIBITION
Art on Paper 2010: The 41st Exhibition
WEATHERSPOON ART MUSEUM
Greensboro, NC

opening:
Sat. Nov 6th, 6.30 pm
Art on Paper 2010 features regional, national and international artists who have produced significant works made on or of paper. Since 1965, the Weatherspoon's Art on Paper exhibition has charted a history of art through the rubric of one-of-a-kind works on paper....Acquisitions have included work by some of art's seminal practitioners, including Louise Bourgeois, Brice Marden, Joan Mitchell, Robert Smithson, Frank Stella and Eva Hesse.

The exhibition opens with a Curator's Talk by Xandra Eden, and a Preview Party hosted by the Weatherspoon Art Association from 7-9 pm.




SEPTEMBER 25 - OCTOBER 30, 2010
SCREENING
WHITE FISH TANK
Ancona, Italy

opening:
Fri. Sept 24th 5.30 – 7.30 pm
Video installations:
Last 7 Words & Where He Was Going (Xtul)
curated by Andrea Bruciati




SEPTEMBER 4 - OCTOBER 3, 2010
GROUP EXHIBITION
MAUREEN PALEY
London

private view:
Sat. Sept 4th 6.30 – 8.30 pm

Featuring: Geoffrey Chadsey, Graham Durward, Peter Hujar, Stephen Irwin, Patrick Lee, Attila Richard Lukacs, Paul P., Jack Pierson, Gary Schneider, Wolfgang Tillmans, Scott Treleaven, Karlheinz Weinberger
curated by Vince Aletti
press release




JULY 9 - JULY 26, 2010
TWO PERSON SHOW
The Radiant Guest:
Paul P. + Scott Treleaven
THE FIREPLACE PROJECT
East Hampton

Opening reception: Saturday July 17, 6-8pm

"—But who is that on the other side of you?"

Treleaven's and P.'s works illustrate a bold fascination with perceptual shifts. Overall they share an obfuscating quality, but one that paradoxically increases the depth of perception or sensation – out of the murk emerge clearer, unexpected ideas – something beginning in nature, with the immediately perceivable, but moving beyond it. Bridges that create a psychic crossing over the lacuna between what's felt versus what's merely perceived. In P.'s case, it's a response to natural phenomenon – mists, dusks, sunsets and sunrises, light on water, the anonymous model, while Treleaven employs a singular combination of collage and traditional photographic techniques to create uncanny vignettes and fleeting rendezvous of figures and shadow. The sense of fugitive marvel inherent in both artists' work moves analogously from their landscapes to their portraits; the countenances, taken from vintage gay publications in P.'s case, or from Treleaven's own studio, belie their origins and adopt the atmosphere they are submerged in. Meanwhile the landscapes receive all the sensuality and possibility that the figures suggest, making for a strange feeling of "interiority" that works to both collapse and extend the picture field at the same time, refining, while also deliciously complicating, what we have traditionally come to expect from documentation and rendering.




JULY 10, 2010
SCREENING
The Touching of Hands:
Breyer P-Orridge | Treleaven | Locrian
LIGHT INDUSTRY
New York

Saturday, July 10, 2010 at 7:30pm
Tickets - $7, available at door.

"The title for the show comes from a remark that Gysin made to Genesis, and Genesis to me: that magical training can only be passed on by the touching of hands." — Scott Treleaven

An evening of solo and collaborative projects by Scott Treleaven and Genesis Breyer P-Orridge, focusing on the shared influence of artist and mystic Brion Gysin. Gysin's close friendship with Breyer P-Orridge, and in turn her friendship with Treleaven, has over time given rise to a number of aesthetic and philosophical affinities found in the work of all three, communicated from one to the other by direct contact. The event concludes with a live performance by Chicago-based experimental drone metal outfit, Locrian

read more about the show at INTERVIEW MAGAZINE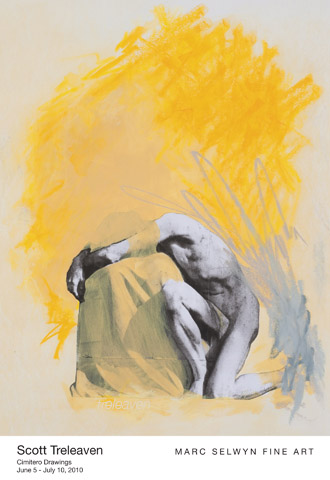 JUNE 5 - JULY 10, 2010
SOLO EXHIBITION
Cimitero Drawings
MARC SELWYN FINE ART
Los Angeles

read the review in the LOS ANGELES TIMES

AN INTRODUCTION BY DAVID LEWIS:
"Marc Selwyn Fine Art is pleased to present a series of new drawings by Paris-based artist Scott Treleaven.
The drawings are the result of a 3-month period spent exploring the Cimitero Monumentale in Milan.
Treleaven began by photographing the cemetery statues. Forty-seven of these 35mm photographs were recently been assembled into a book, published by Printed Matter.
Then: A further transmutation. The artist asks the dead to speak. To rise again in brightness. To again breath fire.
Around the fragments, above and against them, explode patches of handmade color, and a fine but frenzied line that knots up and congeals only to then expand into wide circles and jagged stripes and drips.
On one level, these marks of Treleaven's hand refute those mute markers of death, the fragments of photographed statues: the handmade instead of the mechanical; color instead of grey; motion rather than paralysis; and so on.
The orchestration of such contrasts no doubt accounts for much of these drawings power.
Still, it is only the beginning. As in any mystical system—or even faux-mystical system, which questions its own plausibility—there must always be levels of meaning, and orders of initiation. It is no surprise to find, over time, that the Cimitero drawings complicate (on an intellectual level) and simplify (on an spiritual one).
In another time, another place, there would have been names for all this: words as codes and codes that hide stranger and more potent names.1 Treleaven, being tactful, remains silent, like his statues. But in this silence, and right there in the drawings, hide intimations of immortality."
-- David Lewis
1 Cf. The Great God Pan; various Sufi mystics; Hercules Powder Company; (a Book of the Dead), "Every man and every woman is a Star;" Performance; "One or Several Wolves" and "The Wolf-Man;" blue hydrangeas; Rabbit's Moon; eyeball the size of the world, etc. "



JULY 7, 2010 - OCTOBER 3, 2010
BRION GYSIN : DREAM MACHINE
NEW MUSEUM
New York
"The first US survey of the work of Brion Gysin (b. 1916, Taplow, UK; d. 1986, Paris), an irrepressible innovator, serial collaborator, and subversive spirit who continues to inspire artists today. The exhibition will include over 250 drawings, books, paintings, photo-collages, films, slide projections, and sound works, as well as the Dreamachine—a kinetic light sculpture that utilizes the flicker effect to induce visions...
...More than two decades after his death, his work continues to attract the interest of a new generation of artists drawn to Gysin's radical inderdisciplinarity, including Rirkrit Tiravanija, Cerith Wyn Evans, Trisha Donnelly, and Scott Treleaven. The exhibition is curated by Laura Hoptman, Kraus Family Senior Curator, and will be on view in the New Museum's second-floor gallery. It will be accompanied by an illustrated catalogue co-published with Hugh Merrell, Ltd. which will include scholarly essays and appreciations by contemporary artists, musicians, and poets."

The exhibition catalogue contains essays by curator
Laura Hoptman, Genesis Breyer P-Orridge, Cerith Wyn Evans,
Trisha Donnelly, Scott Treleaven and others






bio/cv

publications + projects